---
Sometimes, having that little bit of extra help in certain situations is exactly what you need when you're in a tough spot. Designed and built for those who make a living with the trucks they drive, our tool boxes go the extra mile to make sure you have exactly the help you need in any situation. From their unique and modular design, thousands of tool box configurations, and a door that can carry it's own weight, our storage solutions are built to endure even the toughest conditions.
We want you to MAKE IT HOME!
• Our standardized bolt pattern allows you to install any of our It-Fits™ Pro Series™ Tool Box Accessories straight onto your box with ease. Just remove the weather resistant rubber plugs, and bolt directly onto the tool box.
Thousands Of Configurations
---
Universal hole pattern, Pre-drilled holes for our line of modular, bolt-on accessories. Box tops, storage fenders, storage mounts, and more! Simply pop out the rubber plugs and bolt-in your favorite accessory. No drilling, no measuring. It-Fits™!

---
Unique / Modular Design
---
Our unique, modular design allows the installation of our Pro Series accessories in thousands of configurations. Simply put, we designed these boxes for people who make their living with their trucks, and they're as tough as the people who run them.

A door that supports you.
---
We designed these boxes for those that make their living with their truck on the side of the busiest highways, DAY IN AND DAY OUT. That's why there is a 400 lb. weight rating on the door. You can use it as a step, for those times you just need a little extra reach.
Slide-in, Bolt-on Jack Bracket
---
Simply un-bolt the access panel and slide-in the jack bracket and bolt down. This bracket will easily save your back. Stop wrestling with your floor jack and install this bracket today!
Stainless Steel Hinges
---
In The Ditch™ Exclusive! Designed by our Engineers, we manufacture our own custom stainless steel hinges for maintenance-free use for years to come. No "piano" style hinge with constant upkeep that tends to get obstructed with road debris.
Drip Channel and Automotive Seal
---
As moisture comes in over the top of the box, it drops into the drip channel and runs down and drains out. We then add an automotive-style bulb gasket to create a secondary defense against moisture, creating a tough, weatherproof box.
Single Paddle Door Handle Dual Stage Rotary Latches
---
We thought of everything to make your time on the side of the road efficient. The last thing you want to do is drop your straps or chains down in the mud to open your toolbox door. That's a thing of the past with our Automotive-style paddle latch system that you can maneuver with one hand.
Bolt-On Air Line / Wire Routing Bracket
---
We quickly realized a large amount of the tools towers like to use when on the job are actually air powered. That's why built an Air Line / Wire Routing Bracket that bolts directly onto the side of your toolbox, no drilling required. So that way you can plug in and go.
Easy Install LED Light Kit
---
One of the worst times to not be able to find something you need out of your box is in the middle of the night. So we made installing an LED light kit fast and easy. Wire routing holes are located on the sides of the toolbox, and you can even utilize our Wire Routing Bracket to tuck your wires out of site. Keeping them dry and not exposed.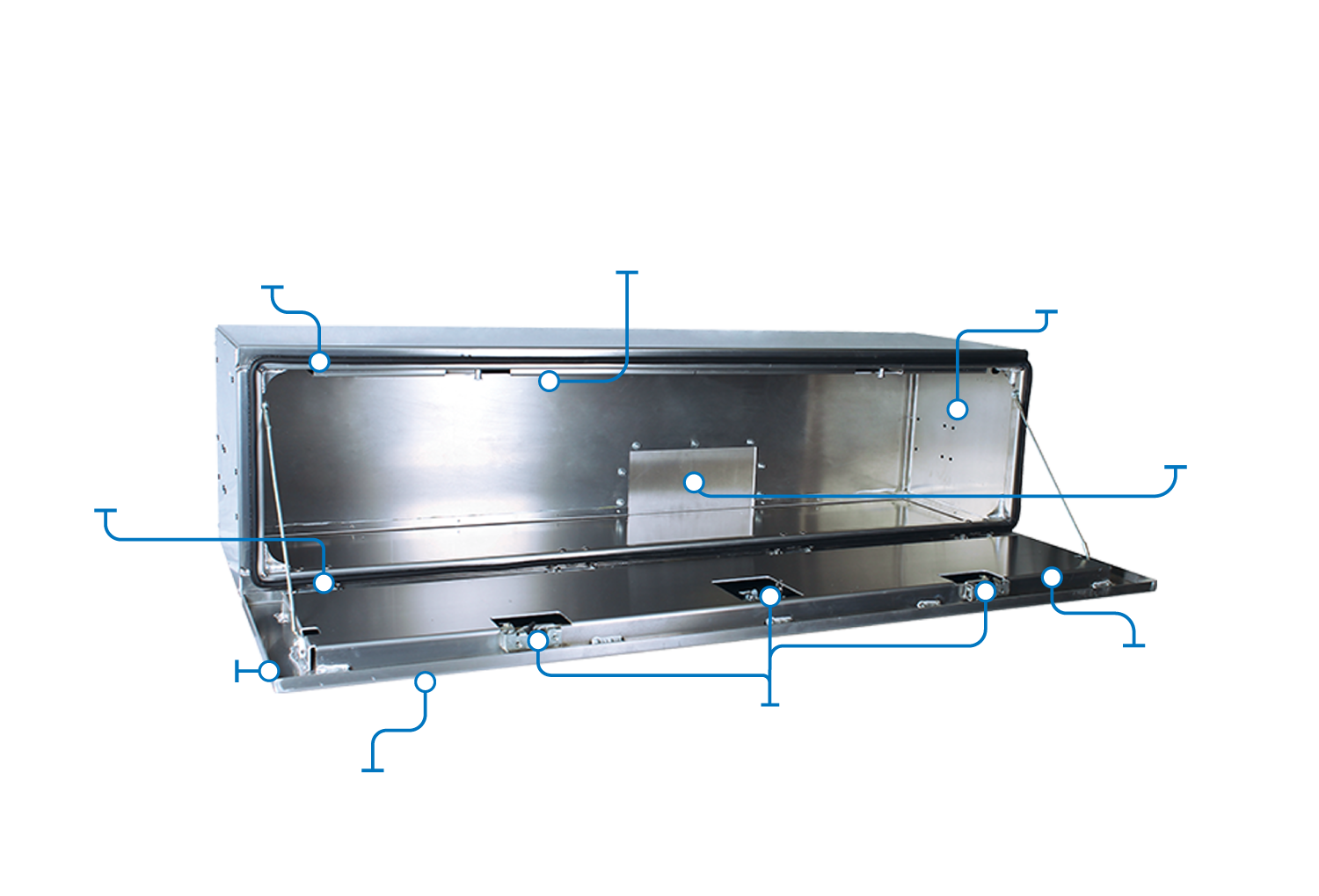 Pro Series™ Tool Box Videos
Pro Series™ Tool Box Models & Configurations
36" Pro Series™ Tool Boxes
---
48" Pro Series™ Tool Boxes
---
60" Pro Series™ Tool Boxes
---
70" Pro Series™ Tool Boxes
---
---
Quick™ Mounts
Quick™ Mounts
---
Our Quick™ Mounts will cut tool box installation time in half. With our Innovative Quick Hang Tab you won't have to use jacks anymore; just hang the mount on the frame rail and set the tool box on, it's that simple. The Quick™ Mount has a unique low profile which will allow it to work with either: inboard or outboard tilt cylinders. The Quick™ Mount is made from steel and comes in our Tuff Coat Black Finish or Galvanized Finish (sold each). We offer our Quick Mounts in 4 Different Lengths to allow for that perfect mounting height.
What Quick™ Mounts do you need for your truck?
---
---
Different quick mounts offer different amounts of drop to accommodate almost any mounting situation when building a truck. Click on the link below to find out what Quick™ Mount would be best suited for your truck, and learn how to take the correct measurements to get that show truck level fitment for your Pro Series™ Tool Boxes.
Click Here to Learn How to Measure Your Truck!
Simple Mounting
---
No measuring, no jacking, just hang the mount over the frame, drill a couple of holes, and you're done! It's really that simple!
Pre-Install Template
---
Use our pre-install template to plasma cut or drill mounting holes in the truck frame!
In The Ditch™ Smart Tabs
---
Each one of our Quick™ Mounts comes with tabs that you can use to get that perfect installation and fitment you need to take your truck and toolboxes to the next level.
Quick Mounts
---
Storage™ Fenders
Storage™ Fenders
---
Great Looks, great aerodynamics, and secure storage all in one package. We designed these Storage™ Fenders for those who want to keep their trash cans, fuel cans, tire chains and tools out of site and secure from theft. We offer these Storage™ Fenders in 4 different lengths. Each Storage™ Fender is made from 1/8″ thick aluminum and is designed to hold up to years of abuse. Each Storage Fender has pre-drilled mounting holes that align perfectly with the predrilled holes in our Pro Series™ Tool Boxes. Installation is easy, just remove the plastic plugs in the pre drilled holes on The ITD Pro Series™ Tool Box and bolt the Storage™ fender to the tool box using the included bolt kit, it's that simple. Each fender has a replaceable Polished Stainless steel front panel that looks as great. If you want to customize your Storage™ Fenders even more just add a gas can or trash can mount inside the storage area.
Storage™ Fenders (Compatible with 20.5" Quick Mount)
---
Storage™ Fenders (Compatible with 18.5" Quick Mount)
---
Individual Storage™ Fenders
---
Box Top Trays
Box Top Trays
---
Our Box Top Trays will increase the storage capacity of your truck and provide a superior organization. When you lower the deck, everything is out of sight from prying eyes. An open-bottom design allows for maximum drainage as well.
---
Pro Series™ Tool Box Accessories
---
Pro Series™ Tool Boxes have a wide array of accessories to fit every need while you're out on the road making a living with your truck. With thousands of configurations of bolt-on accessories, you're sure to get the exact setup for your needs. No drilling required!
36" Tool Box
48" Tool Box
60" Tool Box
70" Tool Box