Since Ceccarelli put his SidePuller on the market and it appeared on American Towman's cover in 2005, Miller Industries acquired its manufacturing and marketing rights in 2006, Danco introduced its Sidewinding Cab Protector in early 2007 to serve the same purpose, and Jerr-Dan introduced its Side Recovery System at the recent American Towman Exposition in Baltimore, at the same time that another exhibitor, Rollback Sidewinder, was exhibiting its version of this product add-on. These products are not identical but offer significant differences in their approach to recovery from the side of the carrier or wrecker.
It is reaching the point where any tow operation involved in a lot of light-duty recovery sees recovering from the side of the tow truck as a must capability for the fleet. Not since the wheel lift came out in the early '80s, has a product invention changed the way towers go about their work. For this reason, Chuck Ceccarelli is Towman of the Year. The invention of the SidePuller was not a fluke by some engineering nerd who happened to walk by our industry and be hit with a brainstorm.
Ceccarelli has been around. Check out his impressive industry credentials.
He started in the wrecker sales and towing business in Bruneau, Idaho, population 300, in 1990. Actually, the wrecker sales came first as an outgrowth of his farm equipment repair shop when towers from the region kept knocking on his door for help. These towers also pushed him to get into towing, as there wasn't a tower within 25 miles of Bruneau. Police calls had him traveling as much as 90 miles to an accident in the middle of the night. Meanwhile, his reputation with his Idaho Wrecker Sales grew as a Chevron distributor.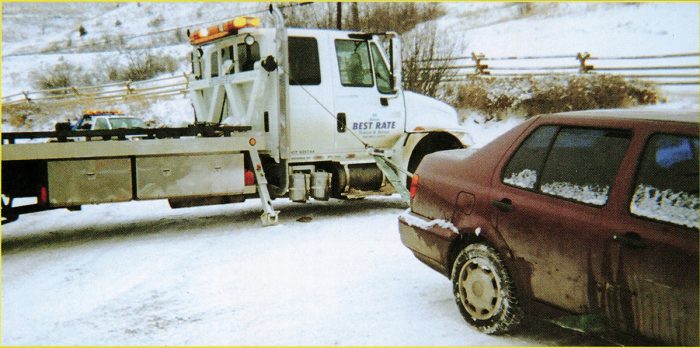 The SP8000 mounted on a carrier allows this unit to work off of the side as a recovery unit.
Besides the SidePuller, he has engineered a power hitch fifth wheel adapter and co-engineered the Drop Down Dollie Box, carried by his In The Ditch manufacturing company.
A family man with a wide of 17 years, Laurie, and a 12-year-old son, Ben, Ceccarelli has been a stalwart contributor to the towing industry on many fronts. In 1999 he was chosen as WreckMaster of the Year and he became a WreckMaster instructor in 2001. He served as president of the Idaho Towing & Recovery Professionals for five years.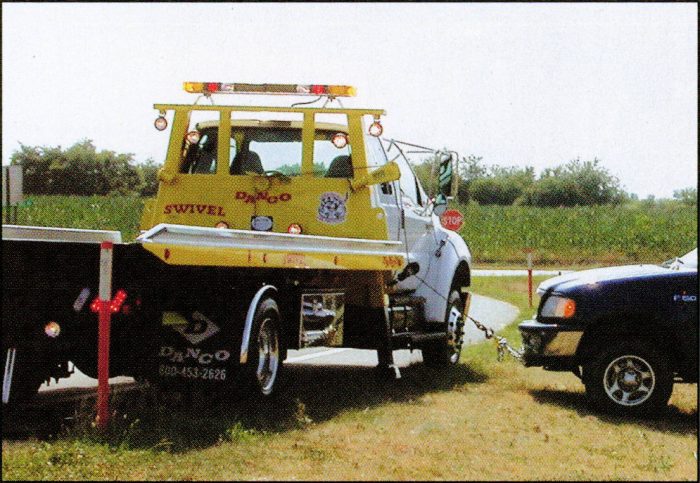 Danco's Sidewinding Cab Protector works off the winch on the main deck.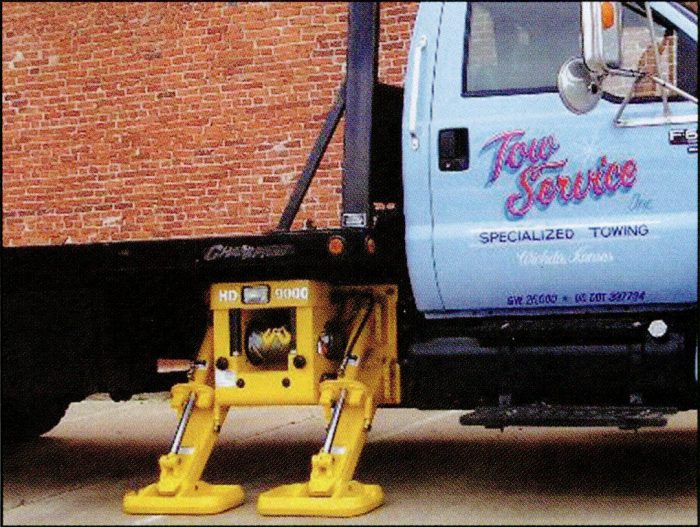 Rollback Sidewinder HD9000 is mounted underneath the bed and is rated at 9000lbs. Here it is in use position. The legs fold up when not in use.
Ceccarelli has also built a sterling reputation as an  aircraft recovery specialist, having been called to that task in locations throughout the U.S. and overseas. Ceccarelli has shared his aircraft recovery expertise with our industry through articles he contributed to American Towman Magazine and in a seminar, he contributed this year in Baltimore. Ceccarelli has also been an advocate through American Towman articles of professional billing practices.
Since the inception of "Towman of the Year" one trait has stood out in all honorees; an extreme dedication and passion for this industry and along with that, a track record of contributing to positive industry change. Ceccarelli stands tall in this regard well before and after he introduced his SidePuller to the towing industry. The list of industry innovators is an impressive one, a list that ushered in the wheel lift, the self-loader, the rotator, the sliding rotator, low angle roll-backs, and other advancements. Chuck Ceccarelli's name is now on that list.
Citations
---
"Towman of the Year." American Towman, Jan. 2008, pp. 20–22.